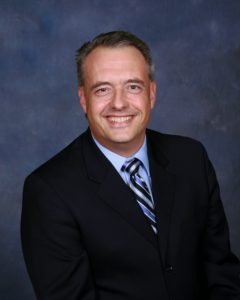 Family:
Trisha (Wife), Kyle (Son), Kenzie (Daughter)
Do your best to present yourself to God as one approved, a worker who has no need to be ashamed, rightly handling the word of truth. (2 Timothy 2:15 ESV)
What I Like Best About Ministry:
Helping people to come to an understanding of their sinfulness, their need for Christ, how to come to know Christ, and then how to live out who they are in Christ. I also enjoy helping people to form a Christian worldview and teaching them how to defend the faith when confronted with contrary worldviews.
For Fun I Enjoy:
Spending time with my family and with my animals (cats Max and Misty, and dog Jane Eyre). Playing disk golf. Reading. Watching movies (especially fantasy and science fiction — I'm a huge Star Wars fan). Cheering on my football teams: Wisconsin and Alabama for college and the Green Bay Packers for the pros.

ASSOCIATE PASTOR OF WORSHIP AND PASTORAL MINISTRIES
REV. BRIAN A. LASHLEY
Family:
Melana (Wife), Braylen (Son) & Bekah, Hannah-Ruth (Daughter) & Dustin, Keaton and Jordan (Grand-Children)
Favorite Book of the Bible:
Psalm (especially Psalm 100), Book of John and James
What I Like Best About Ministry:
Sharing Christ with people in word and deed, encouraging others to use the talents and abilities God has given them, and being there for people in their time of need.
For Fun I Enjoy:
Spending time with my wonderful wife, riding with Melana in the Miata (She allows snacks on these rides) and watching sports. I love to watch all football, but the only team that really matters is Alabama. Roll Tide!!!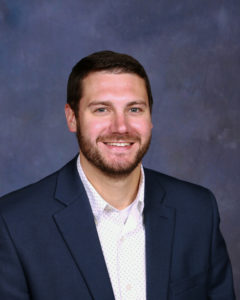 ASSOCIATE PASTOR OF FAMILY MINISTRIES
REV. CHAD ORTNER
Family:
Sarah (Wife), Connor (Son), Savanah (Daughter)
Favorite Book of the Bible:
The Gospel of John, Philippians, and Galatians.
Favorite Verse:
However, I consider my life worth nothing to me; my only aim is to finish the race and complete the task the Lord Jesus has given me, the task of testifying to the good news of God's grace. – Acts 20:24
What I Like Best About My Ministry Is:
The number one thing I love about ministry is seeing the next generation give their life to Christ and commit to living for him. I love to see the next generation discipled and living out their faith. My hearts desire is to see parents leading their kids and students spiritually and to see the next generation impact this world with the Gospel.
For Fun I Enjoy:
I love Spending time with my wonderful family. Watching football, basketball and baseball. You cant beat a good pick up of game basketball! I enjoy watching movies and I am a fan of Batman.

Harvest Baptist Church | 8999 Wall Triana Highway | Harvest, AL 35749 | (256)837-4129